About Our Pediatric Dental Office – St. Catharines, ON
Changing How Your Child Views
Dentistry
At Coral Kids Dentistry & Braces, we offer a full team of specialized pediatric dentists and dental anesthesiologists dedicated to serving children exceptional dental services from cradle to college. As you become more familiar with our dental office, we hope that you'll take a moment to learn about a few of the benefits you can expect when choosing a pediatric dental office such as ours. We work diligently to not only make your child's visit a pleasant one, but change the way they think about dental appointments period.
Specialized in Behaviour Management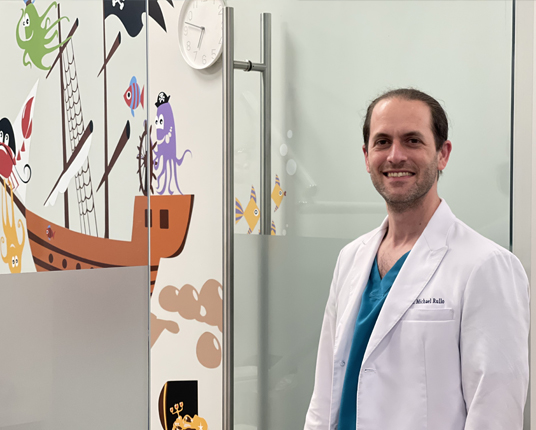 Let's face it: teaching your child new habits is easier said than done. When it comes to their at-home brushing and flossing, or the main way they'll be protecting their smile in between visits to our dental office, you'll want to ensure they are staying committed. As experts in behaviour management, we're more than happy to provide tips on helping your child stay on top of their oral hygiene routine, no matter their age.
Dental Insurance Accepted
for Ages 0-17
As a parent, you're already focused on budgeting all the necessities for your family. When using a dental insurance plan, it's important to ensure you're getting the most out of it for your child. If you're visiting us, it's because you clearly value their long-term oral care and development. Our team members will gladly look over your benefits and make sure you're getting great value for their pediatric dental treatments.
Fun & Caring
Dental Team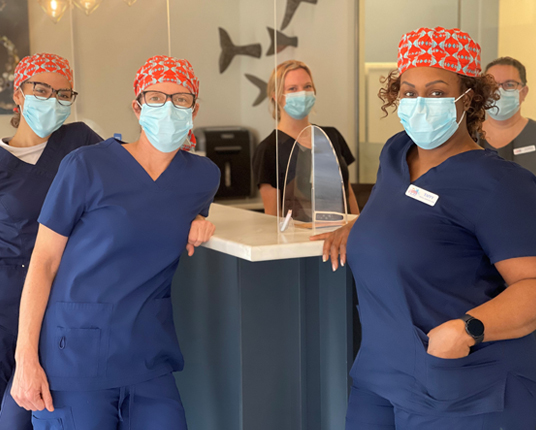 Our team members always look forward to seeing your kids as well as meeting them for the first time. Each patient gets 100% of our attention from the minute they arrive to the minute they leave. As your child explores the aquatic themes of our dental office, our highly experienced pediatric professionals will greet them with a warm smile and make it easy for you to say, "my child had the best experience at Coral Kids Dentistry & Braces today!"
Amenities Designed Around Kids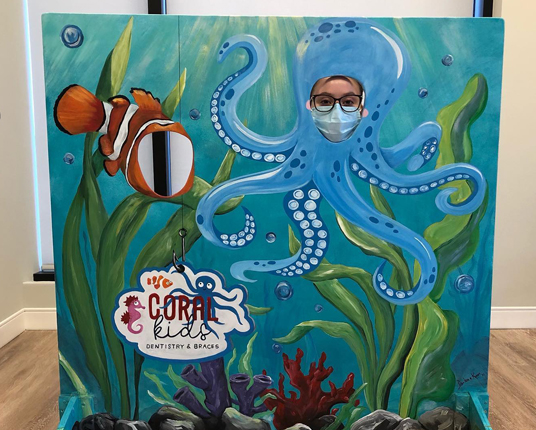 Creating a dental office that caters to your child is one of our highest priorities. That means making them feel like the dental office is truly here for them. While we've included colorful pictures on the walls, fun stickers, modern open spaces, a huge aquarium, and incredibly comfortable dental chairs for them to receive care, we also provide services like sedation to help those with anxiety or special needs. Your child deserves a 5-star experience whenever they visit, whether they're here for a checkup or a complex treatment.
Advanced Dental Health Screenings for Kids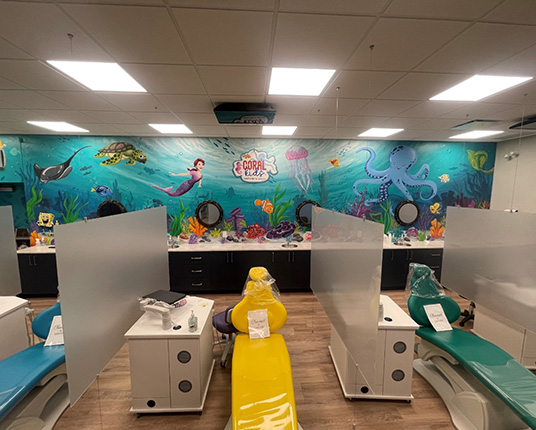 We are nothing if not thorough at Coral Kids Dentistry & Braces, which is why our advanced dental health screenings are incredibly comprehensive. While looking out for undiagnosed dental disease and development concerns, you can expect our touch to be kind, gentle, and considerate. At the end of the day, the more informed you are about your child's oral health, the easier it will be to make decisions on their care. Our dentists look forward to being your partner in their journey to a healthy smile.